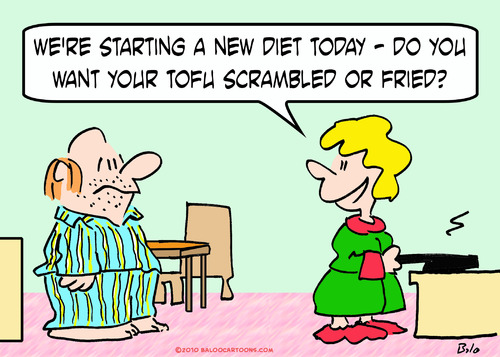 Let's take a step back and think about the choices that we made on today's Meatless Monday. Did we get enough protein? Are we substituting meat with foods that are carb-heavy or fat-heavy, such as bread or macaroni and cheese? Choosing meatless foods that are benefiting your body, instead of harming it can be difficult.
You've heard the alliteration, "Meatless Monday" many times now. I bet if you were to "Ctrl + F" it on this blog it would come up a thousand times. We love alliterations around here, it's even in the title (On purpose? Possibly). Similar to our favorite terminology, the company that produces Tofurky products, Turtle Island Foods, Inc., coined the term "Tofurky Tuesday". The campaign is said to help
reduce approximately 97.885 pounds of CO2 gas emissions
. The company has been dedicated to making convenient and affordable vegetarian foods for almost 30 years.
It seems obvious to most, that products made with the environments health in mind are better for a persons body as well. Well, at least this is the way that I felt until I delved deeper into the nutritional benefits. By comparing a company, that doesn't use any preservatives, MSG or other artificial ingredients, to others that do use preservatives and factory farming methods of production, we can only assume that these things will naturally be healthier for us right? Wrong. That is why it is important to read the labels and weigh your options when opting for a meat substitute product versus raw food that aren't processed at all. By analyzing the differences in nutritional value, we can determine which products make great substitutes and poor substitutes.
Tofurky has a good reputation when it comes to providing similar nutritional benefits to meat without being loaded with fat. I've decided to explore how "meat substitute" products developed by this company rank up to some of our favorite brands.
| | | |
| --- | --- | --- |
| | Tofurky Pepperoni Pizza | DiGiorno Four Cheese Pizza |
| | | |
| | | |
| | 1200mg | |
| | | |
Nutrition Facts provided by www.tofurky.com and www.digiorno.com
| | | |
| --- | --- | --- |
| | Tofurky Hot Dogs (Serving size of 43g) | Oscar Mayer Classic Wieners (Serving size of 45g) |
| Calories | 100 | 110 |
| Total Fat | 4.5 | 9 |
| Sodium | 330 | 340 |
| Sugar | 2 | 1 |
Nutrition Facts provided by www.tofurky.com and www.kraftrecipes.com
| | | |
| --- | --- | --- |
| | Oven Roasted Tofurky Deli Slices (Serving size of 52g) | Hillahire Farm Thin Sliced Oven Roasted Turkey Breast (Serving size of 56g) |
| Calories | 100 | 50 |
| Total Fat | 3g | 0.5g |
| Sodium | 300mg | 490mg |
| Sugar | 1g | 0g |
Nutrition Facts provided by www.tofurky.com and www.hillshirefarm.com
It is tricky finding meat substitutes that provide better nutritional and environmental benefits than the "real stuff". Turtle Island Farms, Inc. is dedicated to providing nutritious and delicious food that has minimal impact on the environment. According to the nutritional break-down above, Tofurky deli slices don't seem to be any better for you than the regular turkey slices. That is the importance of being aware of the choices that we're making, not only on Monday's, but everyday. Sometimes products that are made with an intent to leave little impact on the Earth aren't really that healthy for you. Remember to check the sources where your food is coming from
and
the nutrition labels! Sustainability is about more than preserving the environment, it is about maintaining a healthy and balanced life.
Have a happy and
healthy
Meatless Monday!
-Katelyn
Like us on Facebook:
http://www.facebook.com/pages/Ithaca-Dining-Services/360217938988
.
Follow us on Twitter
:
https://twitter.com/ICDining
NOW Follow us on Instagram, too!: @ICDining
Check out our Meatless Monday Specials:
http://ithacadiningservices.com/dining.html
Take the Meatless Monday Pledge:
http://www.meatlessmonday.com/join-the-movemen