Are you a lover of Macaroni and Cheese and want to support a local non-profit? Come out to the 3rd annual Man 'N Cheese Bowl this Saturday, March 12th, from 11:30am to 2:30pm at the Ithaca High School Cafeteria. You will be able to try numerous kinds of delectable Mac 'N Cheese created by area restaurants and caterers. Tickets can be bought presale for $10 for adults and $8 for children ages 5-12 or at the door for $12 for adults and $10 for children. The purchase of a ticket includes samples from each vendor. Tickets can be purchased from Wegmans, The Lansing Market, Clark's in Dryden, or Brown Paper Tickets. In addition to all the Mac 'N Cheese you could ever ask for, the afternoon will also be featuring live music by several local bands and Crossroads the Clown to supply entertainment for people of all ages.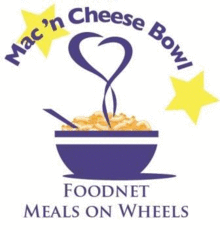 All proceeds will go to support Foodnet's Meals on Wheels program in Tompkins County. The program works to supply the local aging population with nutritious meals that are delivered directly to their doors. Almost 90% of aging people have nutrition related diseases, which contributes to poor healthy and their lack of ability to live independently. This makes it imperative to supply them with healthy meals on a regular basis. The program was started in 1967 by a group of concerned church women and has since expanded greatly with help and funding from local organizations.
Ithaca Dining Services will be competing again this year and will be vying to claim the title from last year's winners, Kilpatrick's and Cornell Catering. You can come down to the IC Square Kiosk between 11:30am and 2:00pm to get an early taste of our Smokin' Good Gouda with Chipotle Peppers recipe! Samples will be sold for $1 for 1oz and $3 for 3oz. Proceeds go to Meals on Wheels and donations can also be made at any retail dining location on campus until Friday. So make sure to get out there to try some amazing Mac 'N Cheese and support a great cause in our community.